ALPHALETE ATHLETICS
Looking for the perfect activewear for your fitness journey? Stumbled upon a Youtuber or Instagram post with the company Alphalete Athletics involved? Me too. Let me answer all your questions on this fitness apparel company.
About 2 weeks ago, I made my first purchase from Alphalete Athletics. To give you some context on this company, the focus around this brand is to cater young adults with lifestyle/fitness apparel. This company was created by famous fitness Youtuber Christian Guzman. His social media popularity led him to scale his business to a 6-figure business. The main platform used to promote his brand was his Youtube account. Along with Instagram. I have been following Christian Guzman' Youtube account since 2014. I believe this is right around the corner on when he started working on Alphalete Athletics. Now, the question is, is he using cheap quality products to manufacture this brand?
To truly determine the quality of the product Alphalete is selling, I had to test them out myself. I decided to purchase my girlfriend some items as well! She will be giving us an honest review on their women's line.
What did I purchase from ALPHALETE?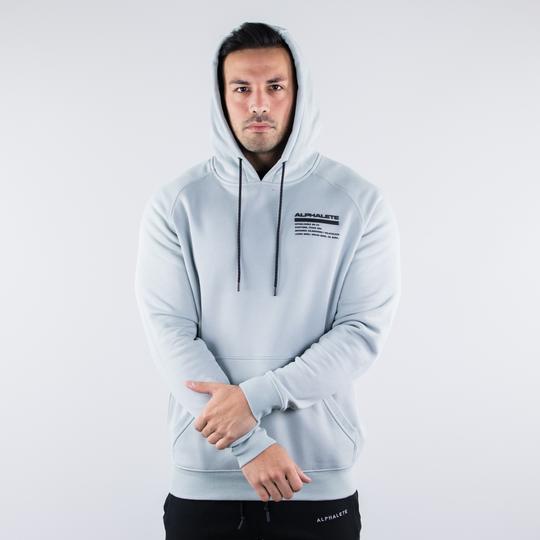 For myself, I got the "Legend Performance Hoodie" in the Blue Tint color, the "Premium Joggers" in black and the "Heavy Cotton Oversized Tee" in white. For my girlfriend, I got her a pair of the "Meridian Leggings" in lavender quartz and a "Cropped Hoodie" in white. The focus for this purchase was around fitness. I think we have enough lifestyle casual clothing. Our gym clothes were getting old and it was time for a new haul! For my girlfriend, everything purchased was in size Small. For myself, I got everything in Medium. I like having my gym clothes fitted so Medium was the best way to go. I tried to look for an Alphalete Athletics coupon code online, but it was nowhere to be found.
Cost of my ALPHALETE ATHLETICS haul?
When looking at the cost of my purchase, I would have to say that the prices are definitely below Nike and Adidas prices, but above Under Armour. I would say it is in line with the Gymshark.
Legend Performance Hoodie: $50.00
Premium Joggers: $64.00
Heavy Cotton Oversized Tee: $34.00
Meridian Leggings: $56.00
Cropped Hoodie $46.00
Total Cost: $250.00
You may think that this might be an expensive order, but we will wear this for a long time! We take good care of everything we purchase, and we make sure to put it to good use!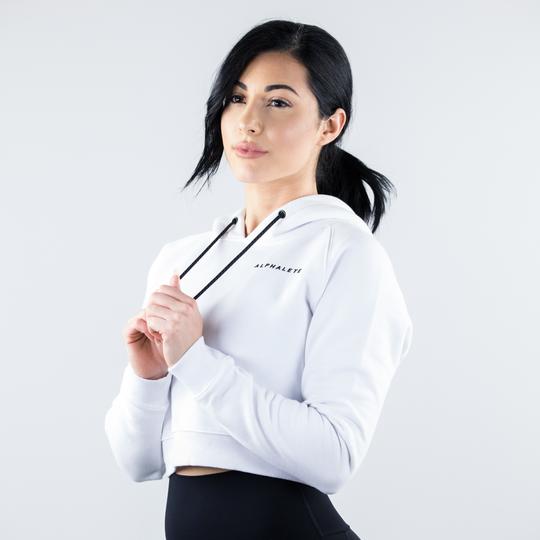 ALPHALETE ATHLETICS Full Review
The order took about 2 weeks to get to Canada. Luckily, no customs fee! Shipping is a little longer than usual, but not a worry, I blamed the harsh weather condition in North America.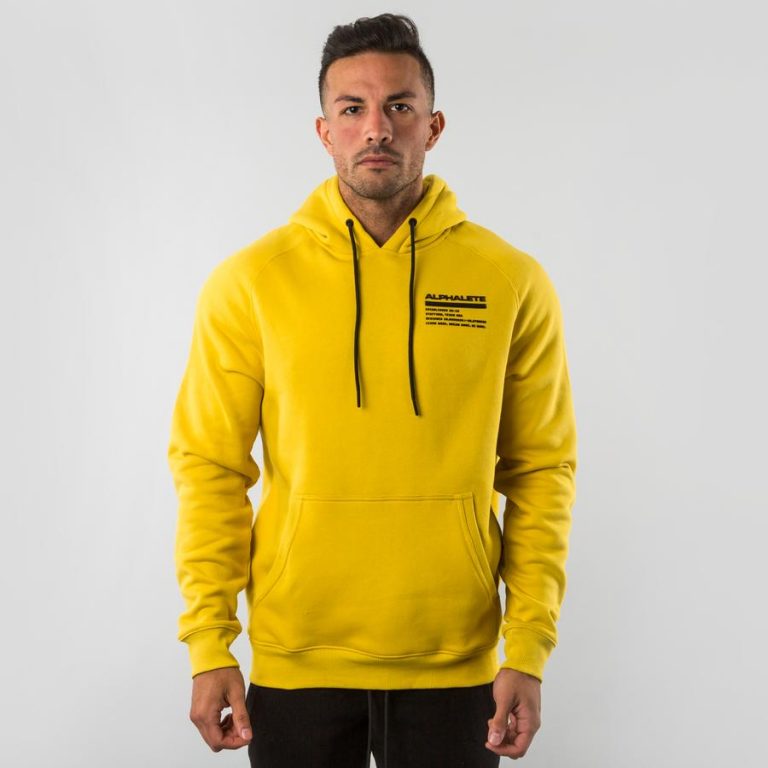 To go in details on the products I have received, let's start off with the Legend Performance Hoodie. There is a nice logo on the top left side of the hoodie that is rubber embroidered. It's also a pullover sweater with front kangaroo pockets for storage. The material is a 55/45 cotton polyester blend for maximum comfort.
​Next, the premium joggers. What I had hoped for these joggers was to have a very fitted look, but my ankles run a bit smaller compared to my upper legs. Therefore, the cuff section of the joggers ends up looking a little baggy. A little disappointed with that, but the quality is amazing! These joggers have a very soft and smooth feel to it. If you are looking for an extremely tight fitted pair of joggers, these are not the ones to go!
The heavy cotton oversized tee is one of my favorite t-shirts I have purchased. Extremely comfortable and does not feel cheap at all! I find it comfortable and perfect for the gym. I think it's a little more expensive than what It should be. $34.00 seems a bit on the upper end side.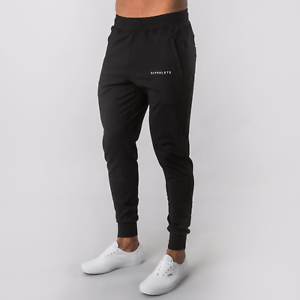 My girlfriend also complemented her outfit! She fell in love with the cropped hoodie and leggings. She mentioned the hoodie had a nice warm feeling to it. The leggings were perfect, and she was not afraid of it being see-through (we tested it out hahaha). The leggings material were 75% nylon and 25% spandex. It was stretchy and great quality. The one thing my girlfriend mentioned was that the leggings did feel kind of tight. She was still very flexible with them on, but they sometimes felt as if they might rip. However, nothing ripped, and everything is exactly how we had received it.
Is ALPHALETE ATHLETICS Cheap?
Do I believe Alphalete Athletics is cheap? No, I do not. I really believe that the team behind Alphalete put in a lot of work to make sure the quality is perfect. There are many brands that just put a logo on a t-shirt and joggers and sell it online, but this team over here made sure the quality is on point and the end customer will be happy with their purchase. From past experiences on workout clothes/activewear clothes, the companies just slab on a logo on a basic cotton tee and call it a "fitness brand".
The trend is slowly ending and the good quality companies will stay standing. My partner and I are extremely happy with our purchase. Yes, the joggers were not exactly what I had hoped, but they are still comfortable and are perfect for the gym. I was told there is another pair of joggers that are available at Alphalete Athletics with more of a fitted cuff section. Hopefully, I can grab a pair of those next time! Would I recommend Alphalete to people? Yes, go for it!! If you are looking for some comfortable fitness gear, this company is the way to go. We get asked all the time where they can purchase our Alphalete hoodies.
SS19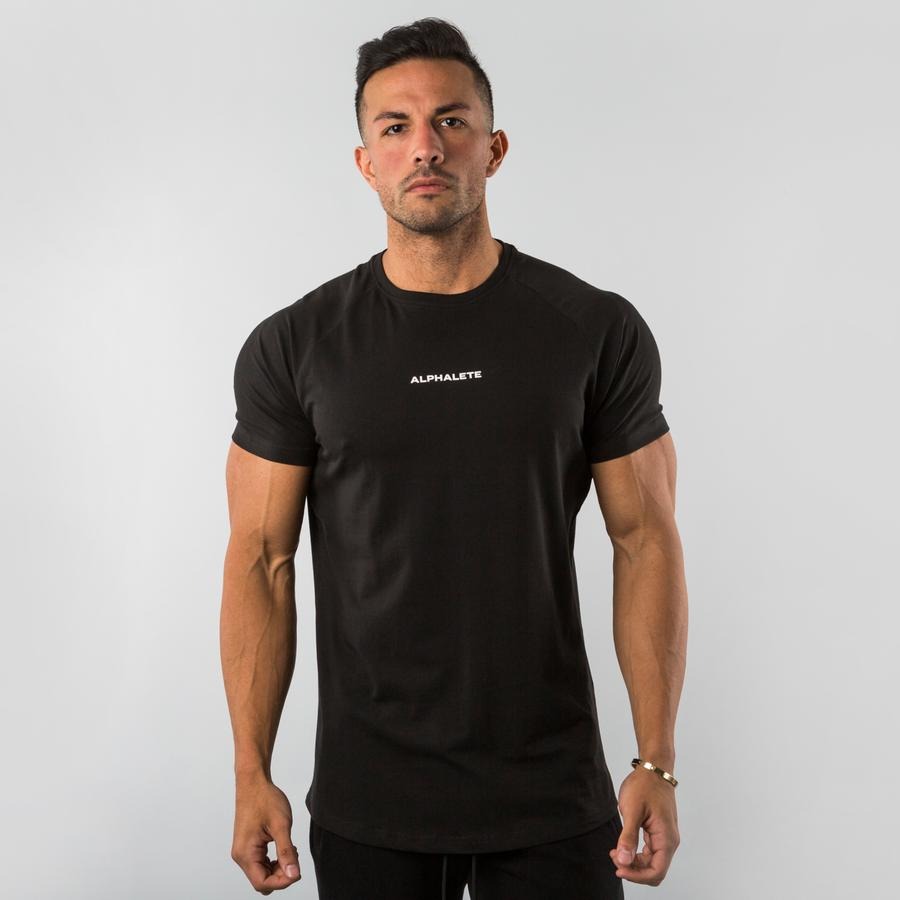 ALPHALETE – AXIS PERFORMANCE TEE
the Performance Shirt features our famous blend of ultra-premium pima cotton and elastane, and creates a cool-to-the-touch feel that's satisfying wear after wear. With our signature Alphalete Tailored Fit, the Performance Shirt is slightly lengthened with a slim cut, making each wear picture-perfect.
Highlights:
Alphalete Tailored Fit
Slightly lengthened trunk for just enough coverage
Slim-fit sleeves
Stretch design for encouraged range of motion
Durable and comfortable — ideal for workouts
Choice of Flagship, Minimal, Statement, and Axis Logos (select colorways)
ALPHALETE – FLAGSHIP PERFORMANCE TEE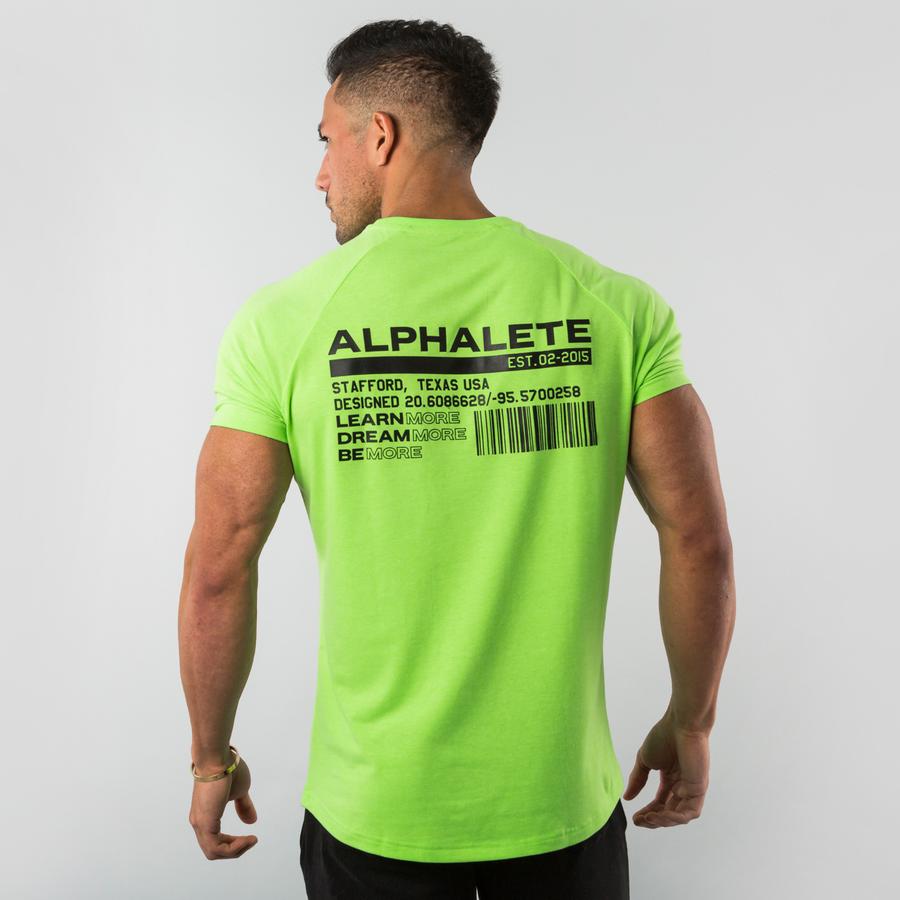 ALPHALETE – REVIVAL R6 WOMENS LEGGINGS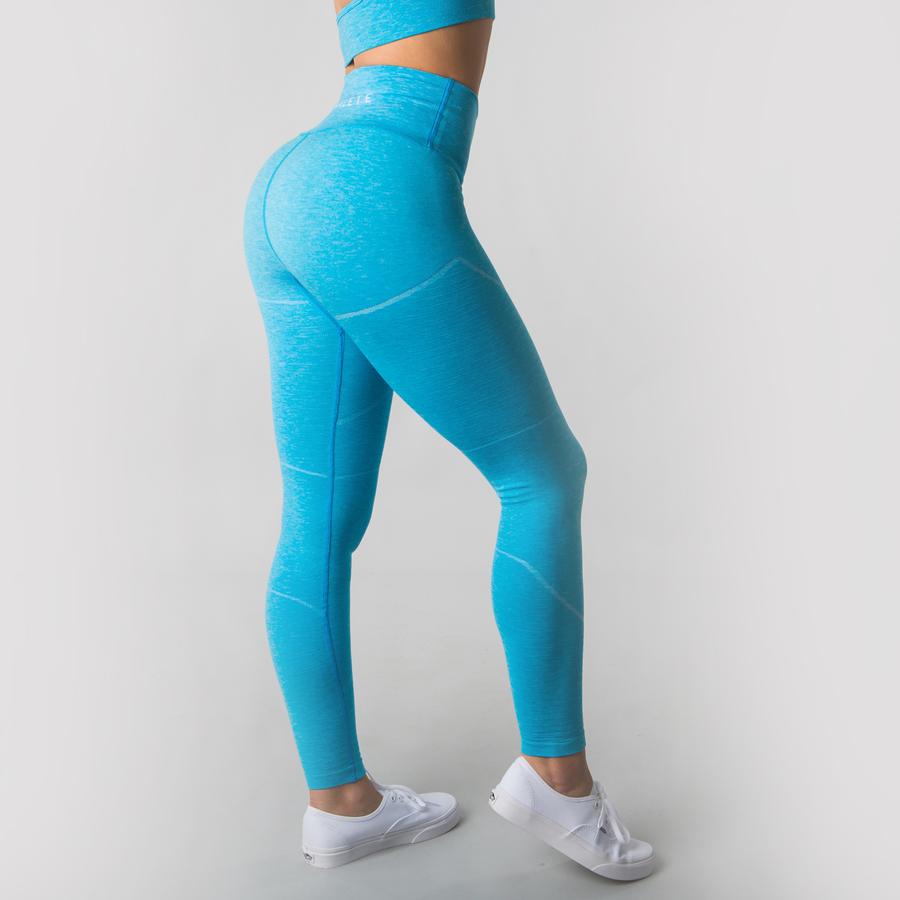 The Revival Leggings are a cornerstone of Alphalete — they're as synonymous with who we are as our Performance Shirt. With each generation, we aim to improve, and that's exactly what we've done once again. This time, with our R6 version, we've updated the knit and yarn, offering a 30% thicker fabric, which helps to avoid sheerness even more. We've managed double the amount of yarn into every square inch of the legging without making them any heavier. You'll still find every bit of stretchability and flexibility you've loved before, but with even more coverage.
We've also introduced a new wash to soften the leggings. While this will fade over time (due to repeat washing), the yarns will soften in turn, so they'll always stay comfortable. The fit remains the same, however, the front rise and gusset have been updated for a more flattering look upfront.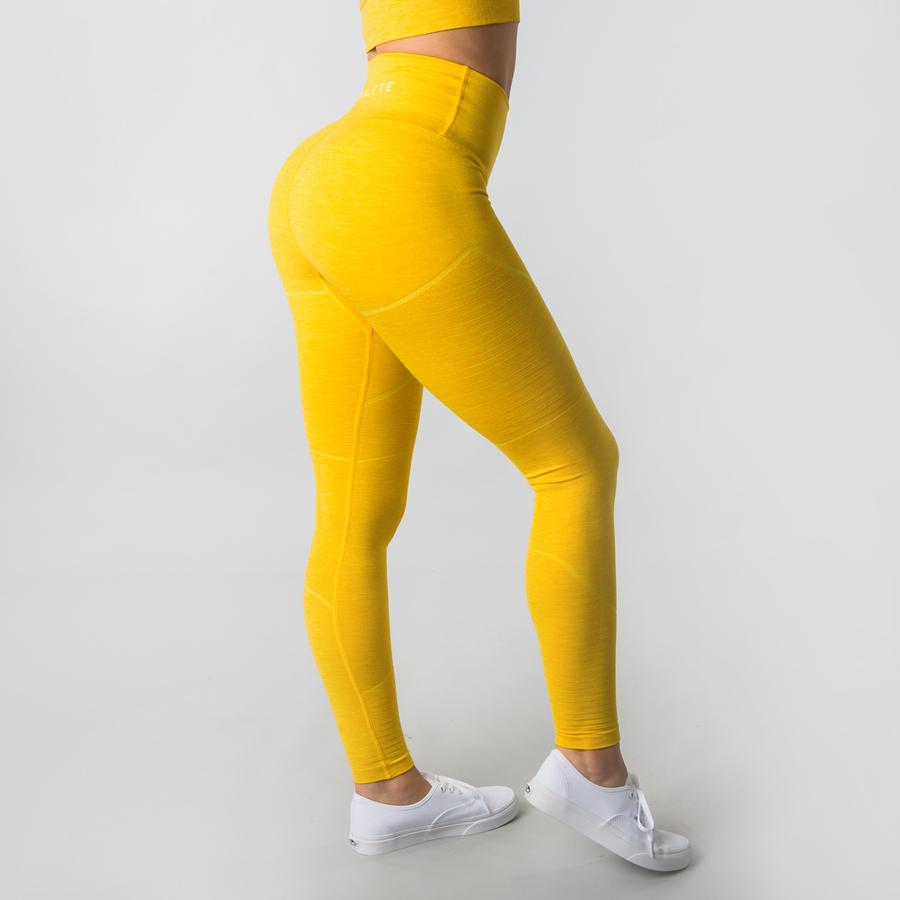 These are without a doubt the best generation of Revival Leggings yet. They're as bulletproof as a seamless legging can get. One wear, and you'll see why. Currently, this has to be one of the best leggings released. There are many leggings with a weak seam that allow some see-through to occur. Not the most comfortable to wear during a heavy lifting session. This will be see-through-proof.
Highlights:
Incredibly comfortable and soft (new wash is used, and yarns soften over time)
Doubled yarn usage for reduced sheerness (compared to older Revival generations)
High-waist design with updated front rise and gusset
Panel detailing across quads
Reinforced stitching
Ribbing details inside and out
Stretchy, flexible, and durable — perfect for athletic and casual wear
Alphalete Script Logo on backside knitted within the fabric — will never crack or peel
THINGS TO KNOW:
Semi-sheer at full stretch (a natural occurrence with lighter colors)
If you're feeling bashful in lighter colors, we'd recommend opting for a darker colorway
Materials & Washing Directions:
Polyester, elastane
Machine wash cold
Hang dry
Materials & Washing Directions:
Polyester, elastane
Machine wash cold
Hang dry
Reviews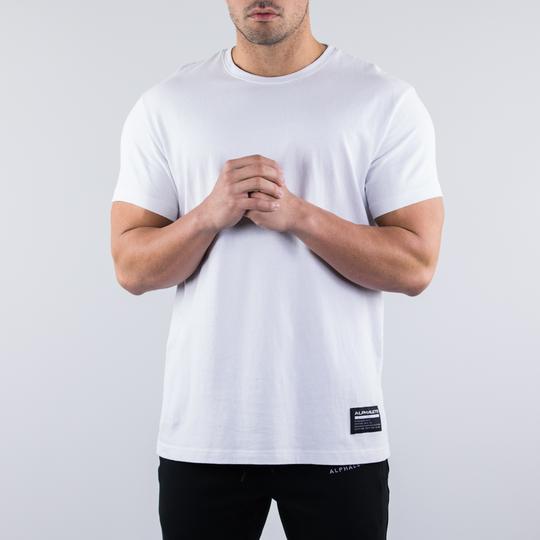 Alphalete Athletics has many reviews that highlight the high-quality material used to create very comfortable products.
While not being the cheapest on the market, they are not extremely expensive for items that will continue to last.
This company doesn't just throw a logo on any t-shirt and call it a fitness tee. Alphalete Athletics has a team of designers that are putting fitness first, and created fitted products made to help you perform better. Many of the items are sweat and water resistant, breathable, and made with high quality materials.
Alphalete Athletics has also gone above and beyond for female customers. Listening to reviews, they have updated their line of leggings. Now offering them with 30% thicker fabric for a breathable, flexible, and comfortable fit without the sheerness that comes with thin leggings. They also come in a wider range of amazing colors to choose from.
Their graphics are clever and catchy without being too over-focused on design or flash. Always looks professional.
Reviewers have indicated that they always receive their product as expected in the time frame they were given.
Due to the custom nature of the clothing, the sizes seem to run true. Typically, the items are tight fitting compared to loose fitting, which makes these fitness clothes flattering to the form.
The price for an entire outfit might seem high for workout clothes, but that one outfit is all you will need, and it will last a long time. It was definitely worth the purchase.
What are their prices like?
Alphalete Athletics is a higher end fitness clothing brand that sells its products in-store and online at lower prices than its competitors.
They are not the cheapest fitness apparel company on the market, but their devotion to quality makes up for the price.
FAQ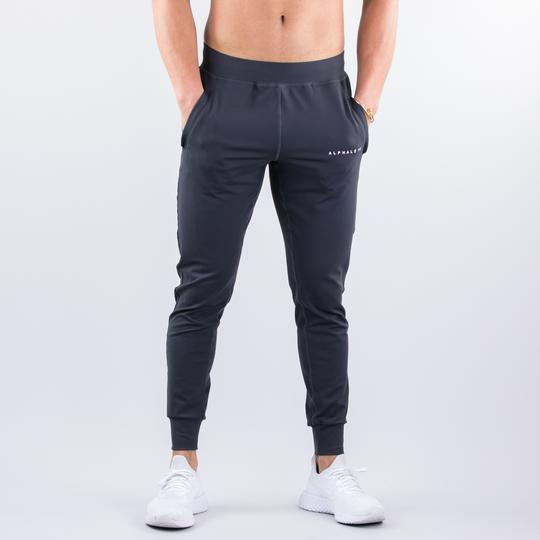 Who created Alphalete Athletics?
This wildly successful fitness clothing company was created by a famous youtuber named Christian Guzman in 2012.
He is a fitness coach and nutrition specialist that began by giving people tips on YouTube and Instagram as a hobby into a multimillion-dollar fitness company.
The company currently employs 20 design, fashion, and brand specialists and now generates $1.63 million in annual sales.
What is Alphalete Athletics focused on?
They hand pick colors, test out all the designs, and tailor make all their products to provide their customers with the best possible style and comfort that they can buy.
They spend months designing products and never release anything until they are fully satisfied with the final product. Their motto is to create a product where Luxury meets effortless comfort.
Where is Alphalete Athletics located?
The design division and headquarters of the Alphalete Athletics company are located in Strafford, Texas.
The manufacturing facilities are located off site but are said to be located in the United States, using domestic and imported raw materials.
Where is Alphalete Athletics Manufactured?
Alphalete Athletics uses several different manufacturing companies during the process of creating their products, and that information is tightly guarded by the company.
Regardless of where the fabric originated or where is it sewn together; Alphalete Athletics has proven to be a reputable company that produces high-quality fitness apparel.
Conclusion
Alphalete Athletics is a fitness and lifestyle clothing company that was started by a fitness YouTuber over a decade ago.
They design their own line of custom apparel and then use several reputable manufacturers, including those that manufacture for brands such as Lululemon, Rise, Burton, and Gym Shark.
They have grown to become a leading competitor in the fitness apparel market. The offer their customers high-quality products that are tailor-made to be the best and most comfortable fitness outfits possible, with a reasonable price and free shipping on qualified orders.
Alphalete Athletics has great reviews and is said to always be worth the price.