Like all things Gallic, beauty is in the detail – and Air France sees its Business Class product as an extension of all things Français. Chic crew uniforms, masterchef-inspired menus, gourmet cheeses, flamboyant desserts, and elegant lounges combine to create a sophisticated Business Class experience.
While not as flashy as some of its competitors, the Air France Business Class offering is elegant and comfortable. With newer aircraft joining the fleet, it is also being modernised. The airline, together with its sibling KLM, is the fifth largest airline in the world and is a founding member of the SkyTeam alliance.

Its Flying Blue loyalty program encompasses other airlines, including KLM and Kenya Airways, which also use Flying Blue. Members can earn and redeem frequent flier miles when flying Air France or any of its SkyTeam partners including Delta Air Lines or Aeroméxico in North America, China Airlines or Garuda Indonesia in Asia, and Middle East Airlines or Saudia in the Middle East. This global alliance opens hundreds of destinations and lounges for passengers in cities where the airline does not fly.
Airport experience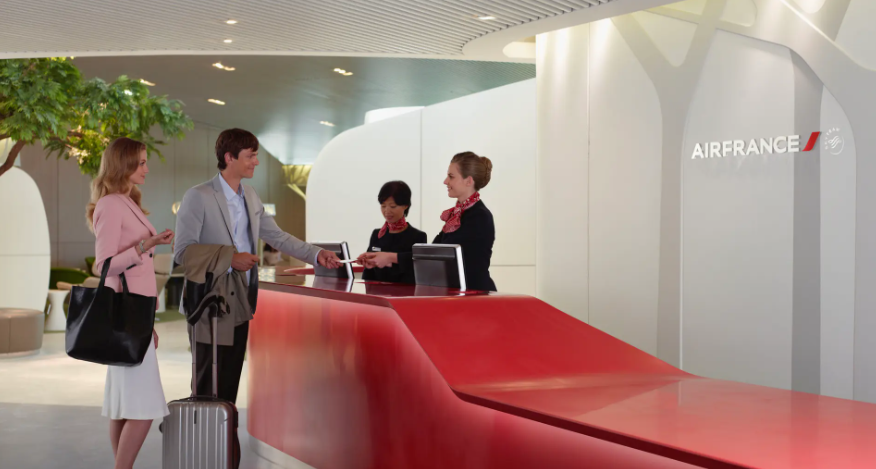 With primary, long-haul hubs at Paris – Charles de Gaulle and Orly, Air France passengers either begin their journey there or pass through on their way elsewhere. For those starting there, SkyPriority queues expedite the check-in process, and Air France Business Class passengers can use dedicated fast-track lines for security and immigration.
Both hubs are bustling with ample shopping and dining options, but premium passengers should head straight for Salon Air France, and there are several of them depending upon the departure terminal. Inside, there are self-serve bars with wine, beer, spirits and, in some lounges, famous-label Champagne including Laurent Perrier. Tasty French fare includes croissants and pain au chocolat in the morning, piping hot espresso and cappuccino drinks, and a selection of freshly baked breads, cheeses, and meats. Later in the day, salads, soups, and sandwiches are served. The bakery and cheese selection remains open and available throughout the day.
Refrigerators filled with soft drinks, juices, Perrier, and Evian water are a nice touch, and a wide selection of magazines and newspapers is available.
Lounges feature service desks for assistance with tickets plus workstations offering with free Wi-Fi. Many lounges have showers for those wanting to refresh between long flights.
Travellers with SkyTeam Elite Plus status on any SkyTeam airline can access the lounge on international itineraries in any cabin although Air France Business Class passengers can enter no matter what their status.
In some lounges on the non-Schengen side of Charles de Gaulle, passengers can indulge in a complimentary 15-minute treatment in the Clarins Spa. Available on a first-come, first-served basis, these include massages and facials from trained aestheticians. The Air France 2E, Hall L Lounge also features a sauna.
Air France boasts Salons in many airports around the world including Bangkok, Frankfurt, Houston, New York JFK, San Francisco, and Washington Dulles.
In cities where there is no Air France Business Class lounge, passengers enjoy access to third-party facilities – often SkyTeam partner lounges – as they await their flight departure.
Cabin & Seat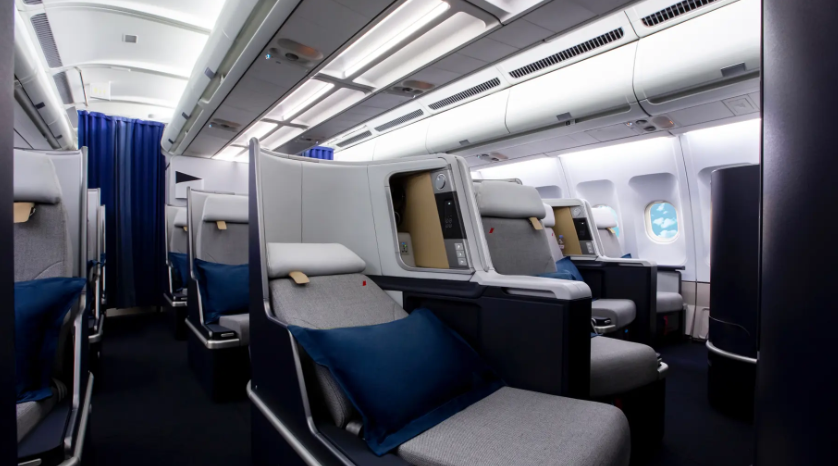 When you board an Air France flight, the grey, white and navy tones in the Business Class cabin are immediately soothing, a smart choice of colours for long-haul air travel.
Air France operates two distinct types of seats: one is a fully flat bed and the other is the older angled-flat bed. Both are comfortable although most will prefer to be completely flat. Air France is working to convert all Business Class seats to the fully flat, all-aisle-access setup soon. These newest seats convert to a 2 metres (6.5 feet long) flat bed. Both seat styles though come with plentiful storage space including a reading light, power outlet and side table.
Which type of seat is available depends on the aircraft you are flying, and it is wise to check the seat map for your aircraft as some parts of the fleet are being reconfigured.
On the Airbus A330, there is a mix between a 2-2-2 configuration of angle-flat and fully flat seats. On the Boeing 777, there is a mix between 2-3-2 configuration of angle-flat seats and a 1-2-1 configuration of fully flat seats. You can determine the type of seat based on the seating layout on 777s. Thankfully the 1-2-1 configuration is now the most common. Planes with the 1-2-1 setup offer an all-aisle-access experience, which means you will not have to step over anyone.
Aircraft with a 2-3-2 setup offer a dense configuration, meaning that there are middle seats worth avoiding in Business Class. Those in the window seats will have to climb over a seatmate to access the aisle (this is also the case on the 2-2-2 configuration). The middle seats are usually filled last – solo travellers may prefer any of the aisle seats on this aircraft while couples should opt for one of the window-aisle pairs. Still, any aisle seat on this setup could have someone climbing over you to access the aisle.
All Boeing 787-9 Dreamliner and Airbus A350-900 planes have a 1-2-1 configuration with fully flat beds. The Dreamliner and B777 planes with 1-2-1 configuration have a reverse herringbone setup. On the A350-900, seats alternate between having the table closer to the aisle and closer to the window. For those that prefer to have a barrier between your seat and the aisle, select an even-numbered seat for more privacy. Those with the table closer to the window mean that the seat is more exposed to the aisle (this makes it easier to get in and out though). These seats have a hard-shell around them adding to the sense of privacy, especially when reclined.
The flight search on BusinessClass.com includes images, videos and seat maps for most airlines and aircraft Search results also include details such as seat pitch, width and recline. This way you can see the seat and cabin configuration of the flight in which you are interested, before making your choice.
Cuisine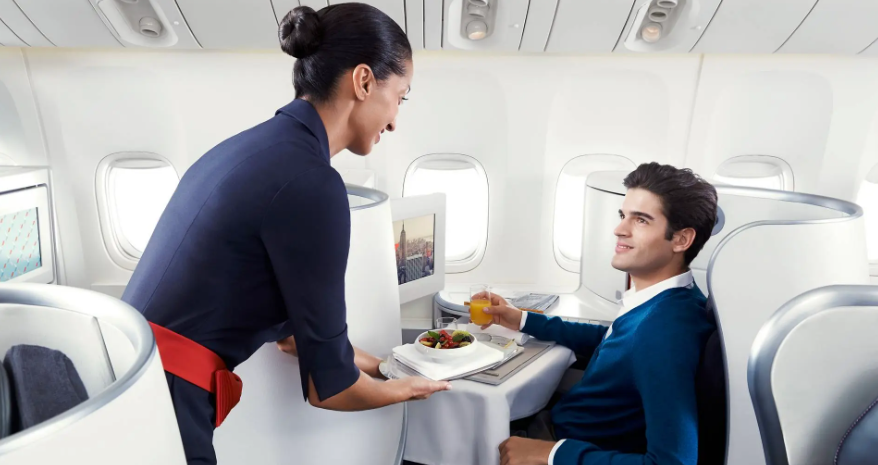 It should come as no surprise that Air France excels in its meal service. Expect decadent French cuisine served with fine wines. Michelin-starred chefs are responsible for the menus, and each flight features a chef's choice, sometimes related to the destination. Among the many chefs highlighted on Air France are Anne-Sophie Pic, François Adamski, Guy Martin, and Michel Roth. On flights to certain destinations, Air France serves food prepared by celebrated chefs in that country including Youn-Young Kim on Korean flights and Daniel Rose on flights departing from the United States.
Flight attendants serve from industrial service carts, which is the least fashionable part of the service. But after linens are laid on the tray table, everything that follows is impressive. An aperitif precedes the meal. Next up, the arrival of a tray with appetiser, cheese selection and salad.
Air France is renowned for its selection of pâtés as an appetiser in addition to crusty French bread and high-quality French butter. A top-up of drinks comes with each course, and once the appetiser plate is collected. Flight attendants serve the main course, which comes pre-plated and heated from the galley. There are three or four choices, usually a beef, poultry or seafood and pasta. One of the selections is often the chef's special of the day. A small silver basket for bread is a nice touch as are having both olive oil and butter. The dessert trolley features a beautiful presentation of sweets and sorbets to round off the dining service.
An express meal service is available for those that want everything served at one time to maximise sleeping time. From certain airports (Toronto or New York JFK, for instance), Business Class passengers on late-night departures can enjoy a full meal in the lounge so that they can board and go to sleep right away.
Meals are not dine-on-demand with the first meal served shortly after takeoff and a second meal is available before landing. Midflight, there is usually a small setup for drinks and snacks near the galley.
On overnight flights, breakfast before landing consists of a continental option with a hot sweet or savoury choice on longer flights. Daytime flights have a pre-landing meal, too, with hot options available on longer flights.
Air France has a list of meal ingredients available via the cabin crew, which is helpful for passengers with allergies. Special meals like vegetarian and Kosher dishes are available to pre-order.
Beverages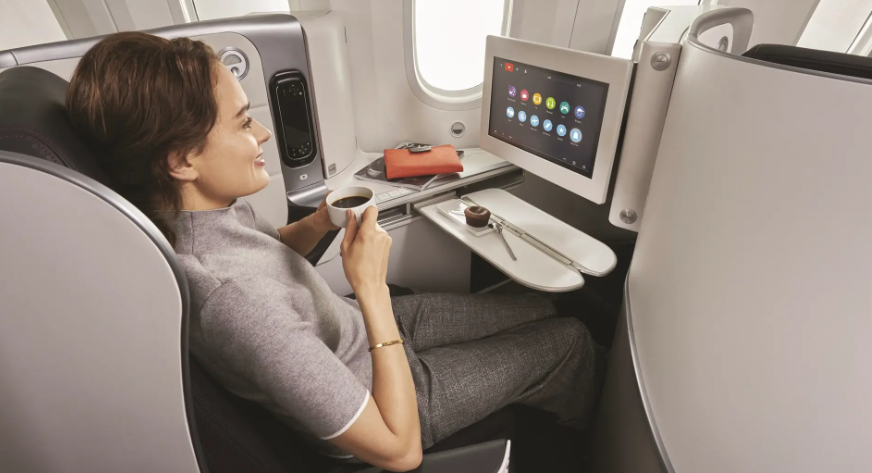 Before takeoff, flight attendants greet passengers with trays of Champagne (usually Deutz Brut Classic or Charles Heidsieck Brut Reserve although it can vary), juice or water. Like many airlines, when departing from certain destinations, Champagne may not be available on the ground.
Flight attendants deliver printed menus with details of the drink selection that accompanies the meal. The airline serves two white and two red wine options plus a lager (usually Heineken). A variety of aperitifs and digestifs are available plus a port wine. Coffee options include Segafredo and Illy, which are both Italian brands ironically, and Palais des Thés tea selections.
Each Business Class passenger receives a bottle of water for the flight, with more available throughout the flight in addition to a full menu of beverages.
The flight search on BusinessClass.com includes information on which Champagne served in Business Class and First Class on many airlines. We do our best to keep track of any changes, but feel free to let us know if there something we missed.
Service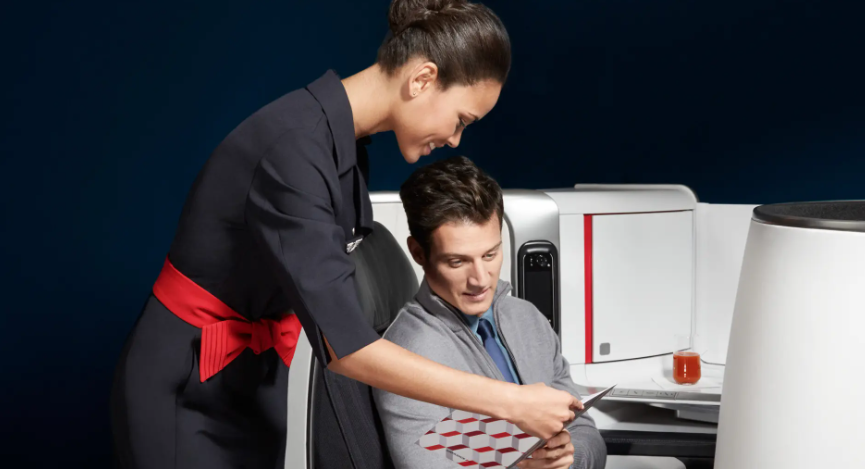 The cabin crew is friendly, multilingual, and professional. While the service not as doting as some Middle Eastern or Asian carriers. Air France flight attendants are known for taking good care of their passengers.
Entertainment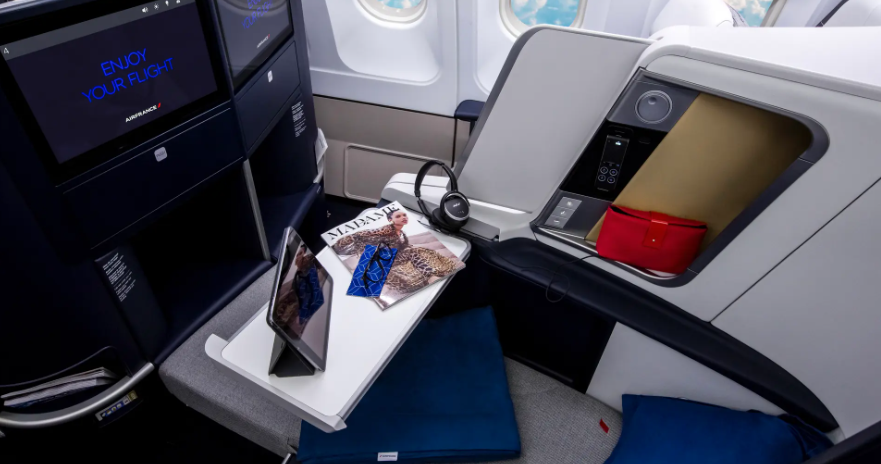 A large 16-inch (40 centimetres) screen folds out from the side of the seat on most planes with the newer configuration. Older configurations with the 2-2-2 or 2-3-2 seating have smaller screens that are not touch-screen. If entertainment is important to you, it is wise to choose a newer plane with 1-2-1 seating for the wider screen with touch-screen capability. The size of the screen is also relative to the amount of entertainment programming available. These include Hollywood movies, television programs and a global collection of music. Screens respond to the touch but can also adjusted via remote control. Noise-reducing headphones wired to the seat already, and the amenity kit contains sanitary covers for each earpiece.
Wi-Fi is available on all Air France long-haul Airbus planes plus the Boeing 787 Dreamliner. It is being added to the rest of the fleet gradually. Prices to connect are based on time – not data usage. Passes are available for an hour or the duration of the flight. There is also an upgraded option for speeds that allow streaming services. It is free to use the signal to send text messages via WhatsApp, iMessage and WeChat.
Before departure and inflight, a wide selection of international newspapers and magazines in different languages is available. Air France produces two magazines for passengers: Air France and Air France Madame. The first features travel-inspired articles from around the globe plus a route map of the airline's destinations and details on the fleet. The second offers fashion and style coverage.
The Air France Play app provides additional reading material options for digital use.
The flight search on BusinessClass.com includes information on inflight entertainment and Wi-Fi.
Amenities & Facilities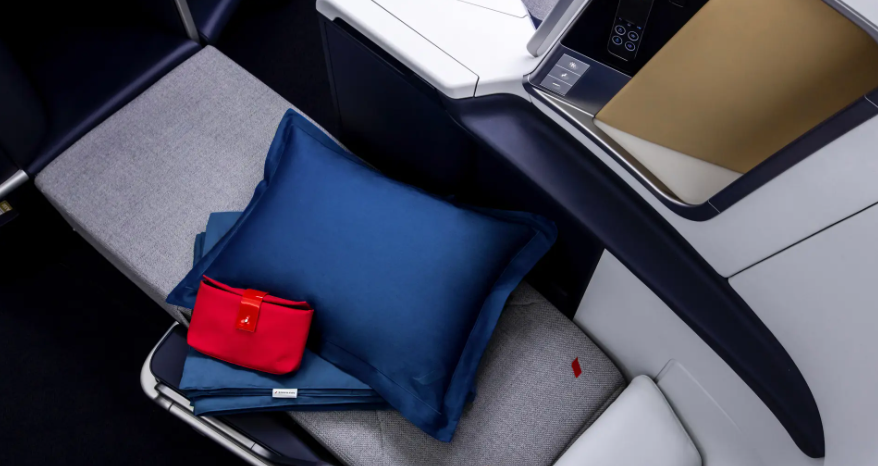 Waiting at each seat on boarding are a thick pillow, slippers, a shoe bag (to store your shoes in the overhead compartment inflight) and wrapped duvet blanket. There is also a sturdy hanger so that a flight attendant can collect. Your jacket or coat and store it in the closet during boarding.
Clarins-stocked amenity kits are an excellent addition to the inflight routine on long Air France flights. These products help to keep your skin hydrated. The kits also include socks, eye shades, ear plugs and a shoehorn. The lavatories have more Clarins products including lotion and facial toner so that you land at your destination looking fresh and fashionable. Air France provides hot towels before each meal, too.
On long-haul flights, families with young children will find Air France crews take good care of them. There are toys and activities to keep kids happy. Parents can request a bassinet in advance for babies in business class.
Short & Medium Haul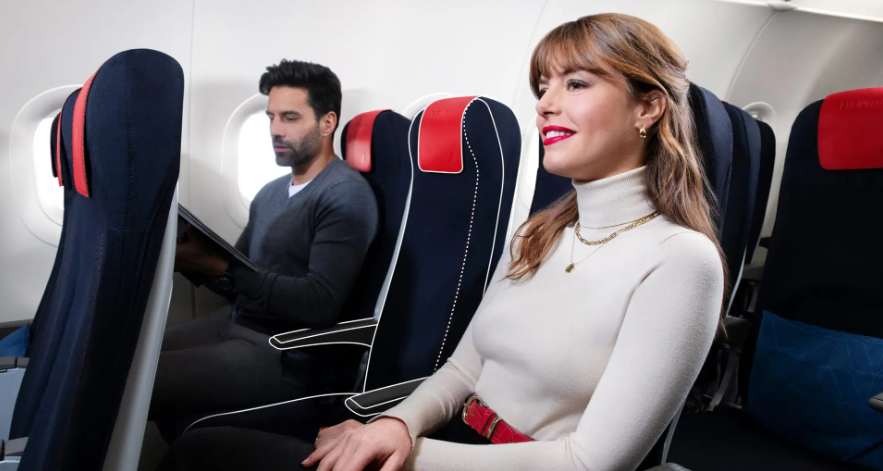 Air France short and medium-haul flights use narrow-body aircraft offering 3-3 seating with the centre seat blocked for extra comfort. Passengers will find pillows and blankets at their seat, and inflight, meals served based on the length of the flight. Shorter flights have cold meals while longer flights have a hot dish. Even on short flights, the bar is open with selections including beer, wine, spirits, and Champagne. Most domestic flights within France do not have a business class cabin.
Sustainability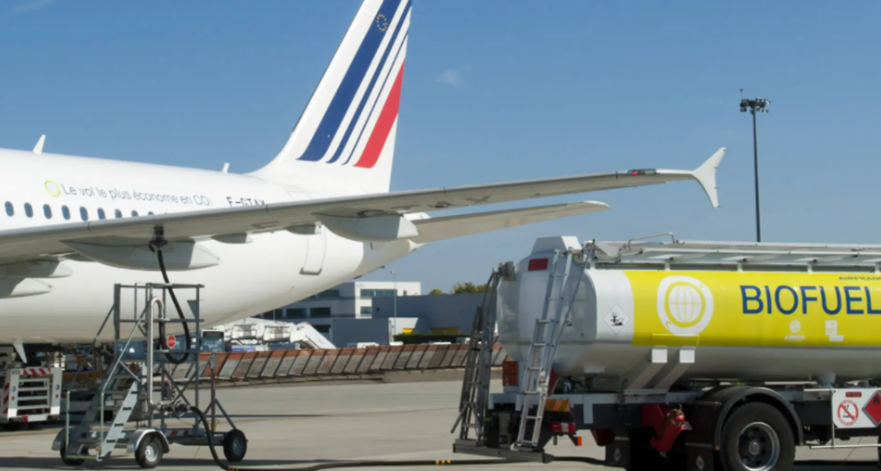 On domestic flights, Air France offsets 100% of its carbon emissions. On longer flights, the airline committed to reducing its carbon footprint through careful route planning and more efficient ground operations.
By 2030, Air France wants to reduce its carbon emissions by half. The airline is also working to reduce single-use plastic on its flights, sort and recycle cardboard, aluminium, plastic, and periodicals, and cut food waste thanks to online pre-ordering options.
The flight search on BusinessClass.com includes information on CO2 emissions for each flight. Our quality algorithms also give a higher score to flights operated by the most modern and environmentally friendly aircraft.
What We Love
The French experience starts in the lounge and lasts throughout the flight thanks to tasty cuisine and amenity kits stuffed with Clarins beauty products.
Gourmands will find an impressive range of ingredients and menus available on Air France flights.
The ability to earn and redeem miles on Air France and SkyTeam partners opens the world to its passengers.